Welcome to the Faculty of Science
---
The Faculty of Science at the University of Auckland is the largest and most highly ranked science faculty in New Zealand. More than 7,000 students study in our 10 schools and departments, learning from internationally-renowned lecturers.
The Ocean Around Us
New General Education course available to all undergraduate students. Marine 100G, Our Oceans Around Us.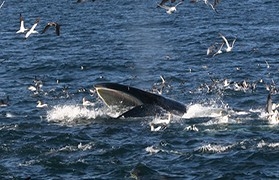 Science Student Centre
Students wishing to see the Science Postgraduate Advisers should contact the Faculty of Science Student Centre.
Auckland Menger Sponge now complete

22 December 2014

The Department of Mathematics is pleased to announce that after a month and a half of hard work and sheer determination, their Menger Sponge is now complete.

How important are you?

09 December 2014

Dr Jackson is the world's leading researcher in network economics, a multi-disciplinary and relatively new field of research which seeks to understand economic and social behaviour through understanding that all interactions between people are networked.

Prize-winning year for 'Nanogirl'

02 December 2014

This year's Prime Minister's Science Prize for Science Communication has been awarded to Dr Michelle Dickinson, capping off a prize-winning year for the University of Auckland engineering lecturer.
PhD Opportunity in the School of Biological Sciences 2015

17 December 2014

We are looking for a well-qualified and highly motivated student to begin a PhD project early in 2015 to study intramolecular crosslinks inside proteins that provide super-stability in harsh environments. This PhD scholarship, funded by the Marsden Fund, is available with Dr. Christopher Squire in the School of Biological Sciences and provides the successful applicant with tuition fees and an annual tax free allowance of NZD$25,000 for three years.